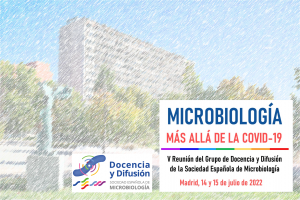 Durante el 14 y 15 de julio de 2021 se celebrará la will be held, a la cual estáis tod@s invitad@s. Dedicaremos una primera jornada a la comunicación y una segunda jornada al currículum en Microbiología en diversos niveles educativos. Tendremos mesas redondas, talleres y conferencias, incluyendo la participación de Kenneth Timmis, que lidera iniciativas para implementar contenidos en Microbiología a nivel europeo.
will be held will be held will be held will be held, como a will be held will be held will be held. Communications on these topics are admitted in the form of a poster, an opportunity for students or teachers involved in innovative communication strategies, such as those carried out in the MicroMundo network or similar initiatives. The conference on the dissemination of Microbiology on the 14th will be joined by some very special guests: the students of the J.R. Villanueva, which will be held at the National Museum of Natural Sciences during the previous days.
The will be held Registration fees range from €40 (young SEM members) to €75 (non-SEM members), with a fee of €60 for SEM members and €50 for members of the D+D SEM group, including coffees and meals. In addition, the European Federation of Microbiology Societies (FEMS) has granted a grant for scholarships that will involve free registration for 60 participants under 30 years of age or who have defended their thesis 4 years ago or less.
IMPORTANT DATES:
May 16: registration opening and submission of abstracts
June 17: end of submission of abstracts
July 8: end of registration at the congress
Do not miss this opportunity to interact with your colleagues and present your educational and educational initiatives! We wait for you!
For more information visit the congress website.
Victor J Cid & Jessica Gil Serna. Coordinators of the Organizing Committee