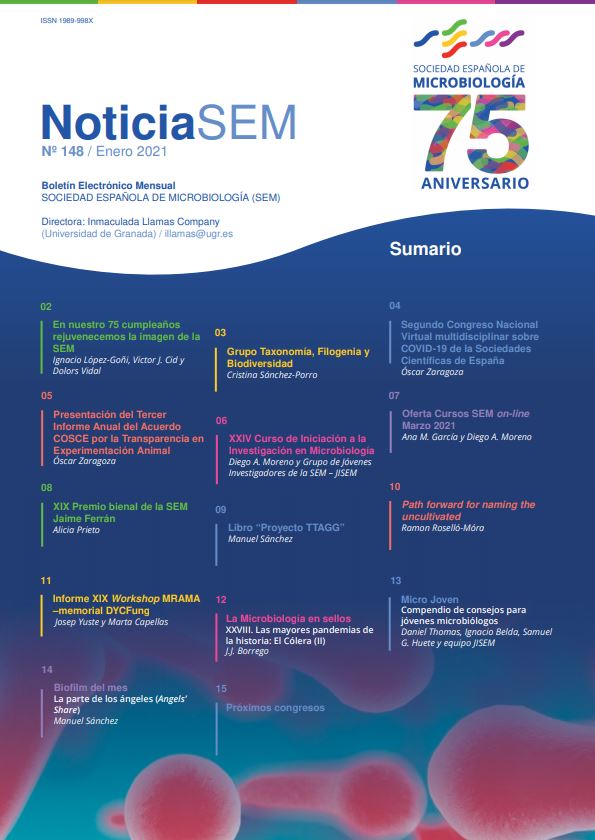 On our 75th birthday we rejuvenate the image of SEM. Ignacio López-Goñi, Victor J. Cid and Dolors Vidal
Taxonomy, Phylogeny and Biodiversity Group. Cristina Sánchez-Porro
Second Multidisciplinary Virtual National Congress on COVID-19 of the Scientific Societies of Spain. Oscar Zaragoza
Presentation of the Third Annual Report of the COSCE Agreement for Transparency in Animal Experimentation. Oscar Zaragoza
XXIV Microbiology Research Initiation Course. EDiego A. Moreno and Group of Young Researchers of the SEM - JISEM
Offer SEM Courses Online March 2021. February 2022
XIX Biennial Prize of the SEM Jaime Ferrán. Alicia prieto

Libro "Proyecto TTAGG".

Manuel Sanchez
Path forward for naming the uncultivated. Ramón Roselló Móra
Informe XIX Workshop MRAMA - memorial DYCFung. Jusep Yuste and Marta Capellas
Microbiology on stamps XXVIII. The biggest pandemics in history: Cholera (II). J.J. Borrego
Micro Young. Compendium of tips for young microbiologists. Daniel Thomas, Ignacio Belda, Samuel G. Huete and JISEM Team.
Biofilm of the month. Angels' Share. Manuel Sanchez
Upcoming congresses.