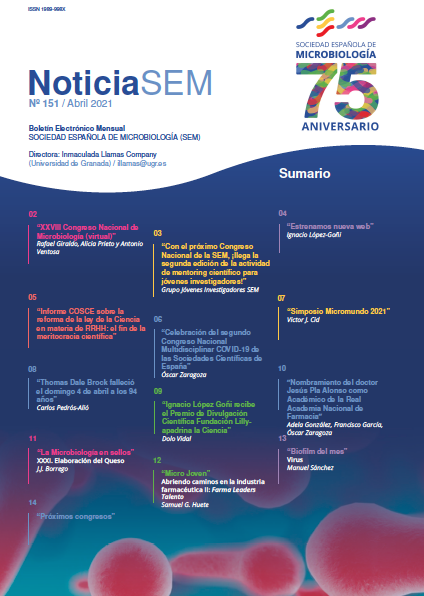 "XXVIII National Congress of Microbiology (virtual). (https://congresosem21.es

)". Rafael Giraldo, Alicia Prieto y Antonio Ventosa

"Con el próximo Congreso Nacional de la SEM, ¡llega la segunda edición de la actividad de mentoring científico para jóvenes investigadores!". Grupo Jóvenes Investigadores SEM

"Estrenamos nueva web". Ignacio López-Goñi

"COSCE report on the reform of the Law of Science on HR: the end of scientific meritocracy"

"Celebración del segundo Congreso Nacional Multidisciplinar COVID-19 de las Sociedades Científicas de España". Óscar Zaragoza

"MicroWorld Symposium 2021". Victor J. Cid

"Thomas Dale Brock falleció el domingo 4 de abril a los 94 años". Carlos Pedrós-Alió

"Ignacio López Goñi recibe el Premio de Divulgación Científica Fundación Lillyapadrina la Ciencia". Dolo Vidal

"Nombramiento del doctor Jesús Pla Alonso como Académico de la Real Academia Nacional de Farmacia". Adela González, Francisco García, Óscar Zaragoza

"La Microbiología en sellos" XXXI. Elaboración del Queso. J.J. Borrego

"Micro Joven". Abriendo caminos en la industria farmacéutica II: Farma Leaders Talento. Samuel G. Huete

"Biofilm del mes". Virus. Manuel Sánchez

"Upcoming congresses"