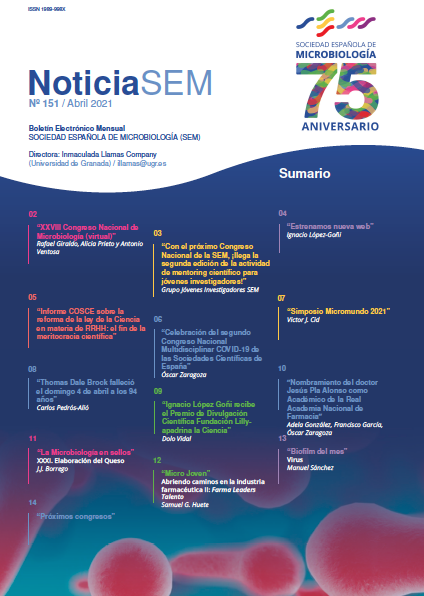 "XXVIII National Congress of Microbiology (virtual). (https://congresosem21.es)". Rafael Giraldo, Alicia Prieto and Antonio Ventosa
"With the next National Congress of the SEM, the second edition of the scientific mentoring activity for young researchers arrives!". Young SEM Researchers Group
"We launched new website". Ignatius Lopez-Goni
"COSCE report on the reform of the Law of Science on HR: the end of scientific meritocracy"
"Celebration of the second National Multidisciplinary COVID-19 Congress of the Scientific Societies of Spain". Oscar Zaragoza
"MicroWorld Symposium 2021". Victor J. Cid
"Thomas Dale Brock passed away on Sunday, April 4 at the age of 94." Carlos Pedros-Alio
"Ignacio López Goñi receives the Lillyapadrina la Ciencia Foundation Scientific Dissemination Award". dolo vidal
"Appointment of Dr. Jesús Pla Alonso as Academician of the Royal National Academy of Pharmacy". Adela González, Francisco García, and Oscar Zaragoza.
"Microbiology in stamps" XXXI. Cheese making. J.J. Sheep
"Micro Youth". Opening paths in the pharmaceutical industry II: Farma Leaders Talent. Samuel G. Huete
"Biofilm of the month". Virus. Manuel Sanchez
"Upcoming congresses"