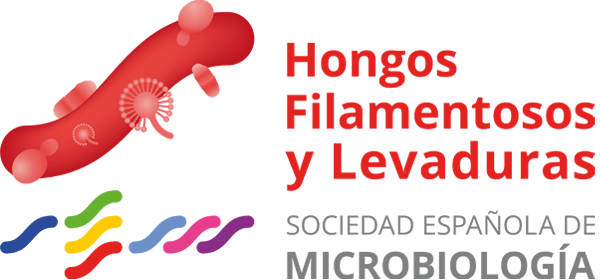 Presentation
Welcome to the SEM Filamentous Fungi and Yeast Group
The Filamentous Fungi and Yeasts group of the SEM brings together a large number of researchers who use filamentous fungi and yeasts as a tool to understand both the basic processes of the biology of these organisms and their application, or that of the enzymes they produce. , in the development of new biotechnological or environmental applications.
The group was founded in 1981, within the Spanish Society of Microbiology, and its main objectives are:
To be a forum for discussion and exchange of ideas among all the researchers that are part of it, many with extensive experience and great national and international prestige and other younger committed and competitive, all of them performing their work in public or private research organizations, universities or companies.
Promote research in mycology, including the dissemination of discoveries that occur in this field. With this idea in mind, the Fleming Prize was created for young researchers, which is announced every two years and is awarded at the group's congresses.
The current board of directors also aims to bring together the different branches of mycology to consolidate a strong group that promotes research in this field and contribute to forming a cross-cutting knowledge platform that helps all mycologists.
Board of Directors
Members
| | |
| --- | --- |
| Alegria Carrasco | Estíbaliz |
| Alfaro Sanchez | Manuel |
| Alguero Musons | Monica |
| Alvarado Gonzalez | Mary |
| Alvarez Perez | Sergio |
| Aparicio Jimenez | Miguel Angel |
| Arroyo Nombela | Javier |
| Ausina ruiz | Vicente |
| Ballester Fruits | Anne Rose |
| Arjona Baths | Alberto |
| Basco and López de Lerma | Ricardo |
| You will erase Salvador | Rafael |
| Calvo Torras | Angels |
| Waiter Fernandez | Susana |
| Canet Miralles | Love |
| Cano Lira | Jose Francisco |
| Tired Vizoso | José |
| Castanera Andrés | Raul |
| Barahona Castle | Luis |
| Ceballos Rivero | Ana Cristina |
| Sanchez City | Antonia |
| Bueso Lamb | Gustavo |
| Belt Edges | Jaime |
| Corrochano Peláez | Luis M. |
| Cortes Acosta | Elijah |
| Noval Caves | Mª Rosario |
| Simon Cutuli | Teresa |
| De Groot | Piet |
| Of Prieto | Antonio |
| Dominguez Olavarri | Angel |
| Duran Bravo | Angel |
| Encinar del Dedo | Javier |
| Neighborhood Attack | Elena |
| Thick Fernandez | Eduardo Antonio |
| Espinosa Texis | Alejandra Paula |
| Fabregas Fernandez | Antonia |
| Fernández Monistrol | Immaculate |
| Fernández-Acero Bascones | Teresa |
| Gacto Fernandez | Mariano J. |
| Garcia Lopez | Alejandro |
| García Rodas | Rocio |
| Garre Mula | Victorian |
| Garrido Crespo | Carlos |
| Gené Diaz | Josepa |
| Gil Garcia | Mª Conception |
| Gil Garcia | Rosario |
| Gil Herrero | Maria Luisa |
| Gil Serna | Jessica |
| Gomez Gil | Elisa |
| Gonzalez Candelas | Luis |
| Gonzalez Garcia | Ramon |
| Gonzalez Menendez | Victor Manuel |
| Gonzalez Rubio | Egg yolk |
| Guarro Artigas placeholder image | José |
| Beautiful of Mendoza Salcedo | Miguel |
| Hernandez Rico | Jorge |
| Hidalgo Vico | Susana |
| Left-Good Queen | Immaculate |
| Jiménez Cid | Victor |
| Jimenez Gutierrez | Elena |
| Jimenez Jimenez | Javier |
| Larriba Street | German |
| Lopez Cuesta | Mª Carmen |
| Lopez Diaz | Teresa Maria |
| Lucas Iglesias placeholder image | Jose R. de |
| Manterola Martija | Jose Maria |
| Martin Brieva | Humberto |
| Martin Souto | Leire |
| Martinez Ferrer | Angel T. |
| Martinez Hernandez | Mª Jesus |
| Martinez Lopez | José |
| Mateo Tolosa | Jose Juan |
| Look gutierrez | José |
| Molina Martin | Mary |
| Mount Vazquez | Enrique |
| Montes Estelles | Rosa MOM |
| Moragues Tosantos | Dolores |
| Mormeneo Bernat | Salvador |
| Murgui Faubel | Mª Amelia |
| Nombela Cano | César |
| Oggerin de Orube | Monike |
| Ears Suarez | Margarita L. |
| Ortiz Martinez | Luisa |
| Patiño Alvarez | Belen |
| Pavón Vergés | Monica |
| Stony Perez | Ana Maria |
| Peñalva Soto | Miguel Angel |
| Pérez González | Mª Pilar |
| Perez Rodriguez | Aitzol |
| Lucas Mudfoot | Antonio G. |
| Alonso plan | Jesus |
| Prieto Orzanco | Alicia maria |
| Querol Simón | Protection |
| Quindós Andrés | Guillermo |
| Ramirez Garcia | Andoni |
| Ramos Moreno | Laura |
| Ramos Ruiz | José |
| Rementeria Ruiz | Aitor |
| King Iglesias | Francisco J. del |
| Rico Vidal | Hortensia |
| Rivero Menendez | Olga |
| Rodriguez Fernandez | songs |
| Rodriguez Gabriel | Miguel Angel |
| Rodríguez Vázquez de Aldana | Carlos |
| Roman Gonzalez | Elvira |
| Roncero Maillo | César |
| Aller Street | Javier |
| Ruger blacksmiths | M. Carmen |
| Ruiz Castilla | Francisco Javier |
| Ruiz Roldan | Carmen |
| San Lorenzo de San Lorenzo | Angela |
| Sancho Valls | Josep |
| Sellers Moya | Angela |
| Serrano Bacallao | Rachel |
| Sesma Galarraga | Ane |
| Seville Garcia | Mª Jesus |
| Silóniz Jimenez | My Isabel |
| Soto Pino | Teresa |
| Suarez Fernandez | Guillermo |
| Suarez Fernandez | Maria Belen |
| Ruiz Tower | Mª Angel of the |
| Valenti Sanguino | Martha |
| Valentin Gomez | Eulogio |
| Valero Fernandez | Clara Isabel |
| Vazquez Estevez | Covadonga |
| Velazquez Molinero | Dew |
| Vendrell Fernández | Sol |
| Vicente Soler | Jeronima |
Group meetings
Resources
Contact and Registration