On March 24, 1882, Robert Koch announced that the bacterium Mycobacterium tuberculosis it was the causative agent of tuberculosis. A few days later, on April 10, he published the article "The etiology of tuberculosis". For this reason, every March 24 we celebrate the World Tuberculosis Day.
According to the WHO, it is considered that one in four inhabitants of the planet is infected by the bacteria and that 10% of these will develop the pathology throughout their lives. In 2019 there were about 10 million people with tuberculosis: 5.6 million men, 3.2 million women and 1.2 million children. It is calculated that in 2019 1,400,000 died from the disease and there were 465,000 cases of multidrug-resistant tuberculosis. Tuberculosis remains one of the most prevalent and deadly infectious diseases.
The current vaccine to prevent tuberculosis is the one developed by Albert Calmette and Camile Guérin in 1921, it is now 100 years old. Bacillus Calmette-Guérin or BCG It is a live attenuated vaccine derived from Mycobacterium bovis, causative agent of bovine tuberculosis, obtained after 230 passages in the laboratory for thirteen years. It is probably one of the most used vaccines throughout history and it is estimated that 90% of the world's children are vaccinated with BCG. Although it protects against the most serious forms of the disease, does not protect against respiratory formsThat is why tuberculosis continues to be a global public health problem.
For more than 25 years the group of Carlos Martin Montañés, from the University of Zaragoza, is working on a new live attenuated vaccine derived from the strain Mycobacterium tuberculosis Mt103, named MTBVAC. The strain Mt103 belongs to lineage 4 of Mycobacterium, one of the most distributed on the planet. MTBVAC is attenuated by two independent deletions in its genome: virulence genes phoP and fadD26. phoP is a general regulator that controls the expression of approximately 2% of the genome of Mycobacterium. Among the genes it controls are several responsible for the synthesis of lipids in the bacterial cell wall. Also, the mutant phoP Although it is capable of synthesizing the ESAT6 protein, it does not release it to the outside and accumulates it inside the bacillus. fadD26 it also regulates the synthesis of several cell wall lipids important for bacterial virulence.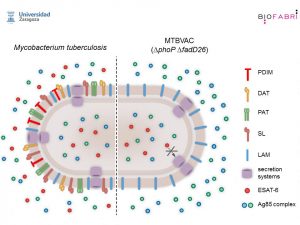 Experiments carried out in recent years have shown that MTBVAC is a safe, immunogenic vaccine and that protects better than BCG vaccine against infection by Mycobacterium tuberculosis in different animal models. MTBVAC is the first and only live attenuated tuberculosis vaccine based on a strain of Mycobacterium tuberculosis which has entered human clinical trials. In 2012 phase 1a began in adults and it was found to be safe and produce a good immune response. These trials were repeated with the same results in 2015 with a group of newborns, which made it possible to start a phase 2 with adults for the selection of the dose that ended in 2020. Recently, the good news is that finally has finished recruiting a good group of newborn boys to start phase 2 in South Africa. COVID-19 has been responsible for this delay. However, this will allow clinical trials to continue and propose a phase 3 to evaluate the efficacy of the new vaccine with thousands of newborns by 2022. Good news to celebrate World Tuberculosis Day.
(Author: ILG)