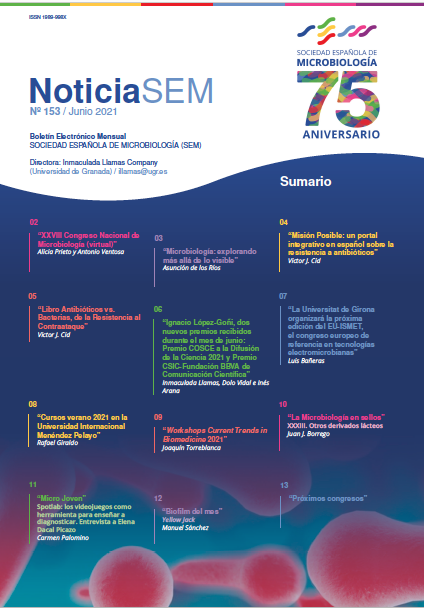 "XXVIII National Congress of Microbiology (virtual)". Alicia Prieto and Antonio Ventosa
"Microbiology: exploring beyond the visible". Assumption of the Rivers
"Possible Mission: an integrative portal in Spanish on antibiotic resistance". Victor J Cid
"Book Antibiotics vs. Bacteria, from the Resistance to the Counterattack". Victor J Cid
"Ignacio López-Goñi, two new awards received during the month of June: COSCE Award for the Dissemination of Science 2021 and CSIC-BBVA Foundation Award for Scientific Communication". Inmaculada Llamas, Dolo Vidal and Inés Arana
"The University of Girona will organize the next edition of the EU-ISMET, the benchmark European conference on electromicrobial technologies". Luis Bathtubs
"Summer 2021 courses at the Menéndez Pelayo International University". Raphael Giraldo
"Workshops Current Trends in Biomedicine 2021". Joaquín Torreblanca
"Microbiology in stamps" XXXIII. Other dairy derivatives. Juan J. Borrego
"Young Micro". Spotlab: video games as a tool to teach diagnosis. Interview with Elena Dacal Picazo. Carmen Palomino
"Biofilm of the month". YellowJack. Manuel Sanchez
"Upcoming congresses"