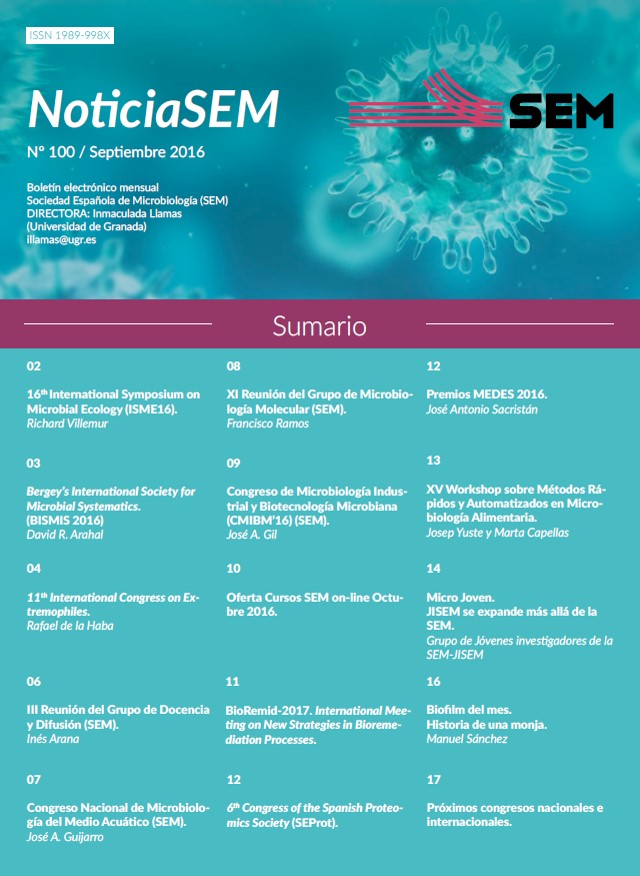 Summary:
Pág. 02: 16th International Symposium on Microbial Ecology (ISME16). Richard Villemur
Pág. 03: Bergey's International Society for Microbial Systematics. (BISMIS 2016). David R. Arahal
Pág. 04: 11th International Congress on Extremophiles. Rafael de la Haba
Pág. 06: III Reunión del Grupo de Docencia y Difusión (SEM). Ines Arana
Pág. 07: Congreso Nacional de Microbiología del Medio Acuático (SEM). José A. Guijarro
Pág. 08: XI Reunión del Grupo de Microbiología Molecular (SEM). Francisco Ramos
Pág. 09: Congreso de Microbiología Industrial y Biotecnología Microbiana (CMIBM'16) (SEM). José A. Gil
Pág. 10: Oferta Cursos SEM on-line Octubre 2016.
Pág. 11: BioRemid-2017. International Meeting on New Strategies in Bioremediation Processes.
Pág. 12: 6th Congress of the Spanish Proteomics Society (SEProt).
Pág. 12: Premios MEDES 2016. José Antonio Sacristán
Pág. 14: Micro Joven. JISEM se expande más allá de la SEM. Group of Young Researchers of the SEM-JISEM
Pág. 16: Biofilm del mes. Historia de una monja. Manuel Sanchez
Pág. 17: Próximos congresos nacionales e internacionales.