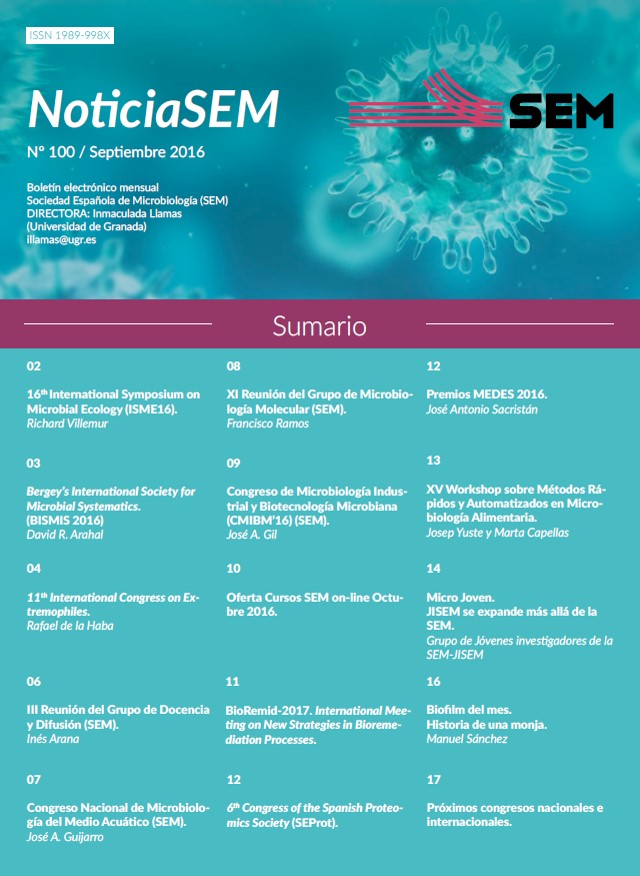 Summary:
Pág. 02: 16th International Symposium on Microbial Ecology (ISME16). Richard Villemur
Pág. 03: Bergey's International Society for Microbial Systematics. (BISMIS 2016). David R. Arahal
Pág. 04: 11th International Congress on Extremophiles. Raphael of the Bean
Page 06: III Meeting of the Teaching and Dissemination Group (SEM). Ines Arana
P. 07: National Congress on Microbiology of the Aquatic Environment (SEM). Jose A. Guijarro
Page 08: XI Meeting of the Molecular Microbiology Group (SEM). Francis Ramos
Page 09: Congress of Industrial Microbiology and Microbial Biotechnology (CMIBM'16) (SEM). José A. Gil
Page 10: Offer SEM Courses on-line October 2016.
Pág. 11: BioRemid-2017. International Meeting on New Strategies in Bioremediation Processes.
Pág. 12: 6th Congress of the Spanish Proteomics Society (SEProt).
P. 12: 2016 MEDES Awards. Jose Antonio Sacristan
Page 14: Young Micro. JISEM expands beyond SEM. Group of Young Researchers of the SEM-JISEM
Page 16: Biofilm of the month. Story of a nun. Manuel Sanchez
Page 17: Upcoming national and international conferences.