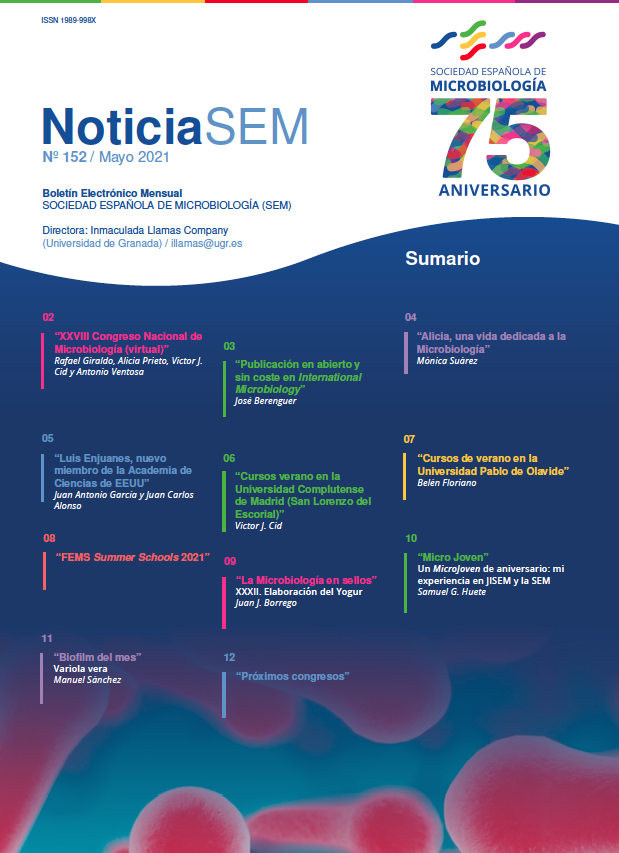 "XXVIII National Congress of Microbiology (virtual)". Rafael Giraldo, Alicia Prieto, Victor J. Cid and Antonio Ventosa
"Free and open publication in International Microbiology". Jose Berenguer
"Alicia, a life dedicated to Microbiology". Monica Suarez
"Luis Enjuanes, new member of the US Academy of Sciences." Juan Antonio García and Juan Carlos Alonso
"Summer courses at the Complutense University of Madrid (San Lorenzo del Escorial)". Victor J. Cid
"Summer courses at the Pablo de Olavide University". Belén Floriano
"FEMS Summer Schools 2021"
"Microbiology in stamps" XXXII. Preparation of Yogurt. J.J. sheep
"Young Micro". An anniversary MicroJoven: my experience in JISEM and SEM. Samuel G. Huete
"Biofilm of the month". Variola vera. Manuel Sanchez
"Upcoming congresses"