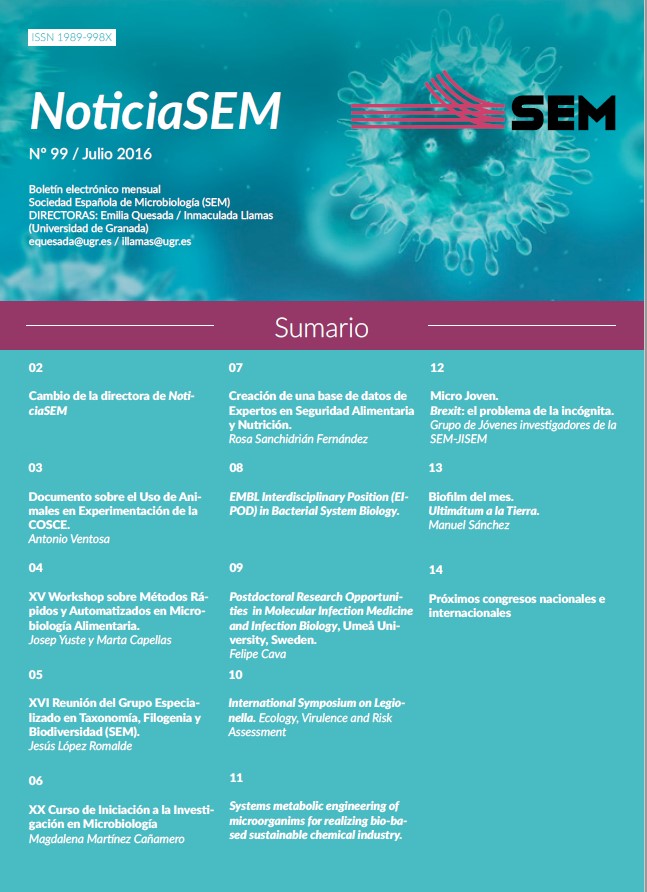 Summary:
Page 02 - Change of the director of NoticiaSEM
Page 03 - Document on the Use of Animals in Experimentation from COSCE. Antonio Ventosa
Page 04 - XV Workshop on Rapid and Automated Methods in Food Microbiology. Josep Yuste and Marta Capellas
Page 05 - XVI Meeting of the Specialized Group on Taxonomy, Phylogeny and Biodiversity (SEM). Jesús López Romalde
Pág. 06 - XX Initiation Course to Research in Microbiology. Magdalena Martínez Canamero
Page 07 - Creation of a database of Experts in Food Safety and Nutrition. Rosa Sanchidrián Fernández
Pág.08 - EMBL Interdisciplinary Position (EIPOD) in Bacterial System Biology.
Pág.09 - Postdoctoral Research Opportunities in Molecular Infection Medicine and Infection Biology, Umeå University, Sweden. Felipe Cava
Page 10 - International Symposium on Legionella. Ecology, Virulence and Risk Assessment
Pág.11 - Systems metabolic engineering of microorganims for realizing bio-based sustainable chemical industry.
Page 12 - Young Micro. Brexit: the problem of the unknown. Group of Young Researchers of the SEM-JISEM
Page 13 - Biofilm of the month. Ultimatum to Earth. Manuel Sanchez
Page 14 - Upcoming national and international conferences