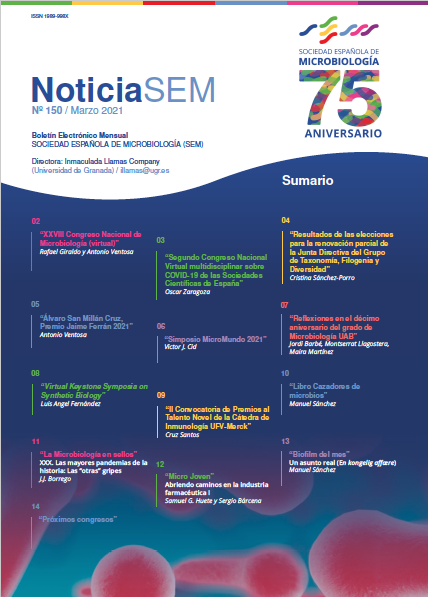 "XXVIII National Congress of Microbiology (virtual)". Rafael Giraldo and Antonio Ventosa
"Second Multidisciplinary Virtual National Congress on COVID-19 of the Scientific Societies of Spain". Oscar Saragossa
"Results of the elections for the partial renewal of the Board of Directors of the Taxonomy, Phylogeny and Diversity Group". Cristina Sanchez-Porro
"Álvaro San Millán Cruz, Jaime Ferrán Award 2021". Antonio Windy
"MicroWorld Symposium 2021". Victor J. Cid
"Reflections on the tenth anniversary of the UAB Microbiology degree". Jordi Barbé, Montserrat Llagostera, Maira Martínez
"Virtual Keystone Symposia on Synthetic Biology". Luis Angel Fernández
"II Call for Awards for Novel Talent of the UFV-Merck Immunology Chair". saints cross
Microbe Hunters Book. Manuel Sanchez
"Microbiology in stamps" XXX. The biggest pandemics in history: The "other" flus. JJ Sheep

"Micro Joven". Abriendo caminos en la industria farmacéutica I. Samuel G. Huete y Sergio Bárcena

"Biofilm of the month". A Royal Affair (En kongelig affære). Manuel Sanchez
"Upcoming congresses"