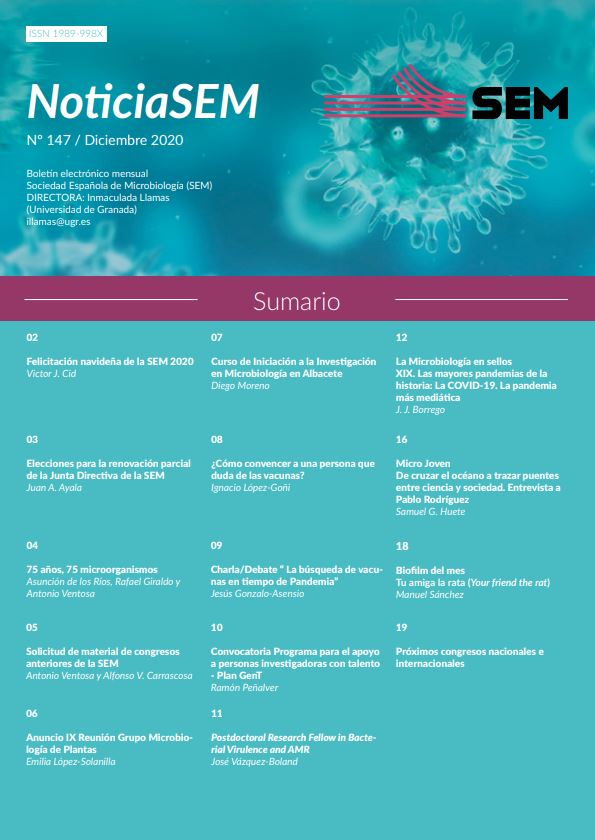 Christmas greeting of the SEM 2020. Victor J. Cid
Elections for the partial renewal of the Board of Directors of the SEM. Juan A. Ayala
75 years, 75 microorganisms. Asuncion de los Rios, Rafael Giraldo and Antonio Ventosa
Request for material from previous congresses of the SEM. Antonio Ventosa and Alfonso V. Carrascosa
Announcement of the IX Plant Microbiology Group Meeting. Emilia Lopez-Solanilla
Microbiology Research Initiation Course in Albacete. Diego Moreno
How to convince a person who doubts about vaccines? Ignacio López-Goñi

Charla/Debate "La búsqueda de vacunas en tiempo de Pandemia".

Jesus Gonzalo-Asensio
Call Program for the support of talented researchers - Plan GenT. Ramon Penalver
Postdotoral Research Fellow in Bacterial Virulence and AMR. Jose Vazquez-Boland
Microbiology on stamps XIX. The biggest pandemics in history: COVID-19. The most mediatic pandemic. J.J. Borrego
Micro Joven From crossing the ocean to building bridges between science and society. Interview with Pablo Rodriguez. Samuel G. Huete
Biofilm of the month. Your friend the rat. Manuel Sanchez
Upcoming national and international congresses.