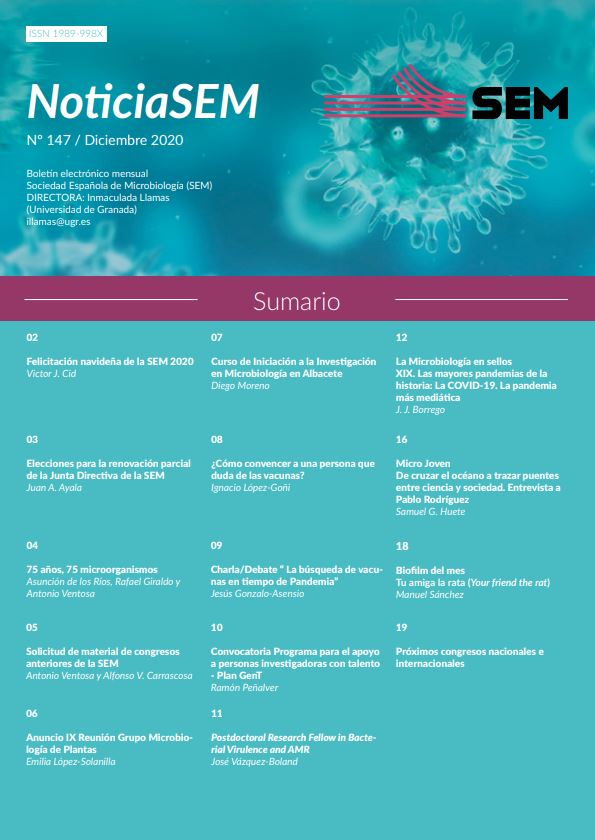 Felicitación navideña de la SEM 2020.

Victor J. Cid

Elecciones para la renovación parcial de la Junta Directiva de la SEM.

Juan A. Ayala

75 años, 75 microorganismos.

Asunción de los Ríos, Rafael Giraldo y Antonio Ventosa

Solicitud de material de congresos anteriores de la SEM.

Antonio Ventosa y Alfonso V. Carrascosa

Anuncio IX Reunión Grupo Microbiología de Plantas.

Emilia López-Solanilla

Microbiology Research Initiation Course in Albacete. Diego Moreno

¿Cómo convencer a una persona que duda de las vacunas?.

Ignacio López-Goñi

Charla/Debate "La búsqueda de vacunas en tiempo de Pandemia".

Jesus Gonzalo-Asensio

Convocatoria Programa para el apoyo a personas investigadoras con talento - Plan GenT.

Ramón Peñalver

Postdotoral Research Fellow in Bacterial Virulence and AMR.

José Vázquez-Boland

La Microbiología en sellos XIX. Las mayores pandemias de la historia: La COVID-19. La pandemia más mediática.

J.J. Borrego

Micro Joven De cruzar el océano a trazar puentes entre ciencia y sociedad. Entrevista a Pablo Rodríguez.

Samuel G. Huete

Biofilm del mes. Tu amiga la rata (Your friend the rat).

Manuel Sanchez

Próximos congresos nacionales e internacionales.