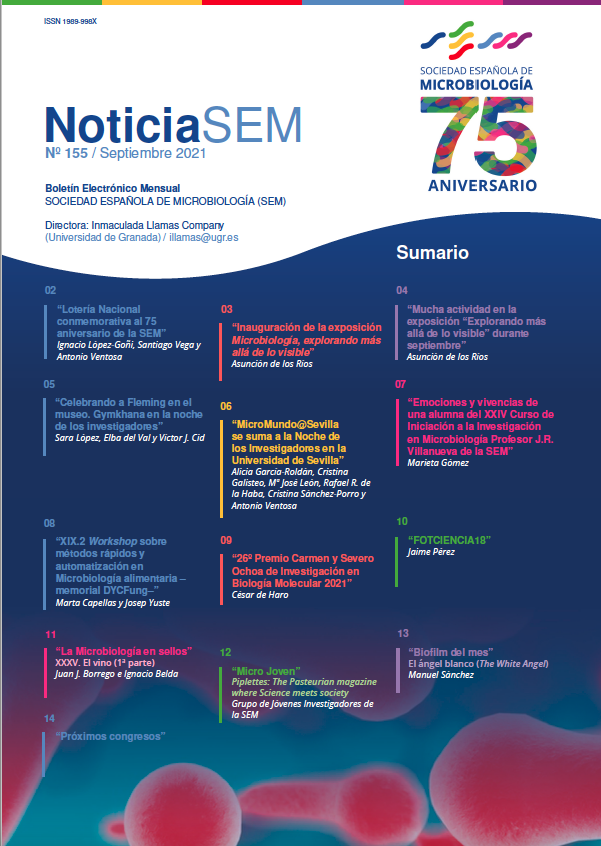 NATIONAL LOTTERY COMMEMORATIVE TO THE 75TH ANNIVERSARY OF THE SEM. Ignacio López-Goñi, Santiago Vela and Antonio Ventosa.
INAUGURATION OF THE EXHIBITION "MICROBIOLOGY, EXPLORING BEYOND THE VISIBLE". Asuncion de los Ríos.
LOTS OF ACTIVITY IN THE EXHIBITION "EXPLORING BEYOND THE VISIBLE" DURING SEPTEMBER. Asuncion de los Ríos.
CELEBRATING FLEMING AT THE MUSEUM. GYMKHANA IN THE NIGHT OF THE INVESTIGATORS. Sara Lopez, Elba del Val and Victor J. Cid.
MICROMUNDO@SEVILLA JOINS THE RESEARCHERS' NIGHT AT THE UNIVERSITY OF SEVILLE. Alicia García-Roldán, Cristina Galisteo, Mª José León, Rafael R. de la Haba, Cristina Sánchez-Porro and Antonio Ventosa.
EMOTIONS AND EXPERIENCES OF A STUDENT OF THE XXIV COURSE OF INITIATION TO RESEARCH IN MICROBIOLOGY PROFESSOR J.R. VILLANUEVA OF THE WEEK. Marietta Gomez.
XIX.2 WORKSHOP ON RAPID METHODS AND AUTOMATION IN FOOD MICROBIOLOGY – DYCFUNG MEMORIAL. Marta Capellas and Josep Yuste.
26th CARMEN Y SEVERO OCHOA AWARD FOR RESEARCH IN MOLECULAR BIOLOGY 2021. Cesar de Haro.
PHOTSCIENCE18. Jaime Perez.
MICROBIOLOGY IN STAMPS. XXXIV. THE WINE (PART 1). Juan J. Borrego and Ignacio Belda.
MICRO JOVEN. PIPLETTES: THE PASTEURIAN MAGAZINE WHERE SCIENCE MEETS SOCIETY. Group of Young Researchers of the SEM.
BIOFILM OF THE MONTH. THE WHITE ANGEL (THE WHITE ANGEL). Manuel Sanchez.
NEXT CONFERENCES.